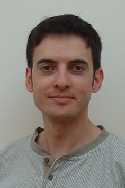 Dr. Ala Khazendar
I recently obtained a PhD from the Université Libre de Bruxelles in Belgium. There, I worked at the Laboratory of Glaciology. I am currently a Wiener-Anspach postdoctoral scholar at the Institute of Theoretical Geophysics of the University of Cambridge (email: ala@esc.cam.ac.uk).
My main field of research is Antarctic glaciology. More specifically, I am interested in:
Ice shelf/ocean interaction
Marine ice and its formation in open rifts and bottom crevasses of Antarctic ice shelves
The solidification process of a mixture of frazil crystals and ocean water to form marine ice with distinctive salinity and stable isotope composition. This is the problem I am currently investigating at the ITG.
Publications
Khazendar, A., J.-L. Tison, B. Stenni, M. Dini, and A. Bondesan, Significant marine ice accumulation in the ablation zone beneath an Antarctic ice shelf, J.Glaciol., In press.
Tison, J.-L., A. Khazendar, and E. Roulin, A Two-Phase Approach to the Simulation of the Combined Isotope/Salinity Signal of Marine Ice, J. Geophys. Res., In press.
Souchez, R., A. Khazendar, D. Ronveaux, and J.-L.Tison 1998, Freezing at grounding line in East Antarctica; possible implications on sediment export efficiency, Annals of Glaciology, 27, 316-320.